Small Business Breakthroughs with Stacey Kuzda, Founder of Mix Marketing
Topic: Management/Leadership
A podcast style Q&A designed to dig into the topics that are impacting your business and keeping you up at night.
About this Event:
Join the Ohio Small Business Development Center in partnership with the Dublin Entrepreneurial Center for a podcast style Q&A designed to dig into the topics that are impacting your business and keeping you up at night.
Each edition of "Small Business Breakthroughs" will feature a timely discussion on trends, economic environment impacts in business, or business management tips and advice and more.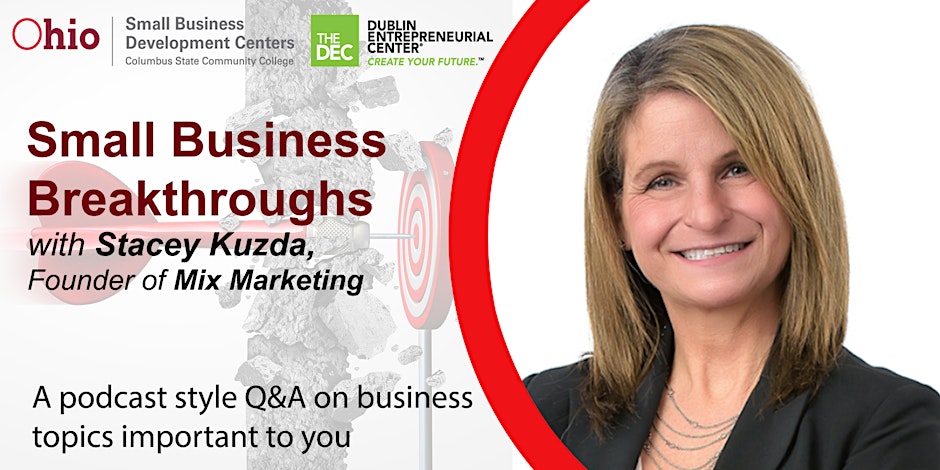 Small Business Breakthroughs welcomes Stacey Kuzda founder of Mix Marketing. Stacey has extensive experience working with small businesses in creating marketing strategies that lead to more customers and increased revenue.
With over three decades in the industry, Stacey has become a trusted advisor to businesses looking to enhance their brand presence, optimize their websites, and supercharge their marketing communications.
Stacey will share her experiences working with businesses from existing to brand new start-ups. Areas that will be discussed include:
• The importance of branding and naming a business
• How research and targeting the right audiences can improve a business
• Important business differentiators
• Best practices for your website and Google presence
• How to create marketing plans and improve customer communication
Guest: Stacey Kuzda - Founder, Mix Marketing
Stacey Kuzda specializes in Partnership Marketing, Event Marketing and Planning, Advertising, Public Relations, Budget Development, National Account Management, Account Profitability, Brand and Product Management, Retail Promotions, Field Marketing, Fundraising, Sponsor Development, Competitive Market Analysis, Marketing Consulting and Community Relations.
Host: Michael Bowers, CBA - Director, Ohio SBDC at Columbus State Community College
Michael Bowers is a business consultant and Director of the Ohio Small Business Development Center at Columbus State. Michael works closely with entrepreneurs and business owners assisting them in building their companies. He has a diverse business skill set with experience in banking, private equity, strategic planning, digital media and marketing.
Fee: No Cost
Already Registered?
Sign in
for more information.