Small Business Spotlight, Episode 6: Marilyn Khadr, BB The Web LLC
Topic: Management/Leadership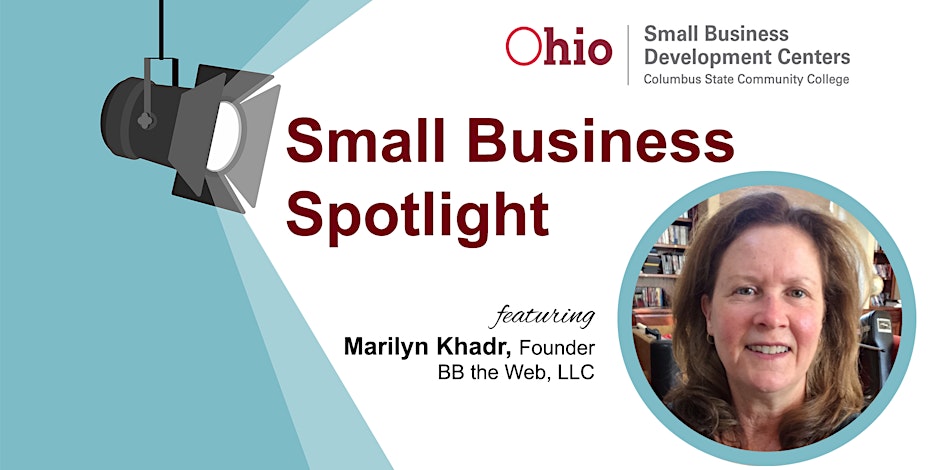 A monthly podcast style Q&A with owners of successful small businesses from Central Ohio.
About this Event:
Join the Ohio Small Business Development Center to learn from real business owners what it takes to start and run a successful small business. Each edition of "Small Business Spotlight" will feature an industry-specific discussion on a range of topics including business management tips, insider advice, and more.
Guest: Marilyn Khadr, Founder, BB the Web, LLC
Marilyn is the founder and owner of BB The Web, a digital media company. Started in 2016, BB The Web is a full-stack web services company catering to businesses and organizations that strive to present an impactful and memorable online presence.
Marilyn began her professional journey as a computer science major at Indiana University. Her career took her to corporations in Baton Rouge, New York City, and Cincinnati, where she applied her programming and development talents to help Exxon, Prodigy, and Smith-Barney with data analysis and to stake a claim for their online presence at the dawn of the internet.
During the late 1990s, Marilyn paused her technology career to raise a family with her husband, Karim. She expanded and completed electronic media training before re-entering the digital design landscape, which led to her start-up. Marilyn leads the BB the Web team offering web and content development, paid ads, social media campaigns, digital analytics, and web maintenance.
The nickname, BB, came from her sister, who could not say "baby" when Marilyn was born. The nickname stuck and eventually evolved into Marilyn's brand.
Moderator: Bruce Walters, MS, CBA
Bruce is a Certified Business Advisor for the Ohio Small Business Development Center at Columbus State Community College, where he manages the intake process for new clients, and provides marketing, operations, and general advising services for established businesses. Bruce's experience is predominately in insurance, human resources, entertainment, and non-profit administration. Bruce holds an associate degree in art from City College of San Francisco, a bachelor's degree in art history from the University of California Berkeley, and a master's degree in marketing and communications from Franklin University.
Our "Small Business Spotlight" series provides prospective small business owners with information on a variety of topics and industries, from Central Ohio business owners. Check our Calendar of Events for other topics in this series.
Fee: No Cost