Small Business Spotlight, Episode 10: Nicole Simpson, MBA, CFEI - Go Fund Your Life
Topic: Management/Leadership
A monthly podcast style Q&A with owners of successful small businesses from Central Ohio.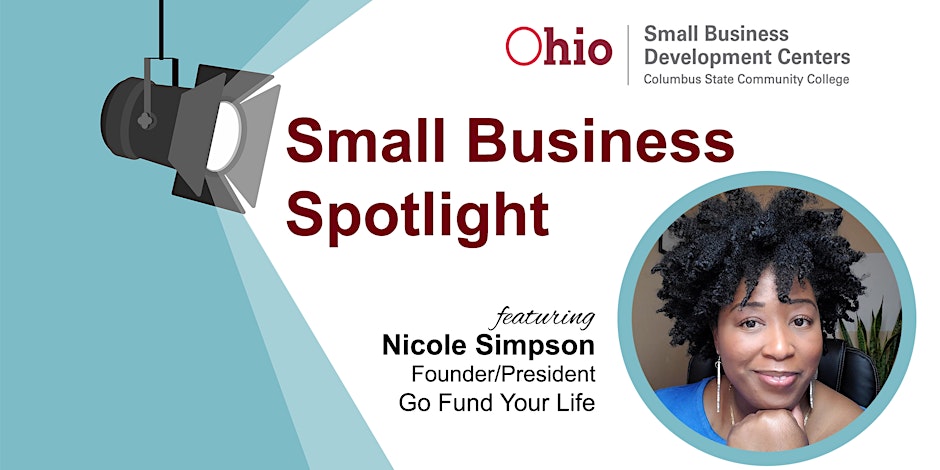 About this Event:
Join the Ohio Small Business Development Center to learn from real business owners what it takes to start and run a successful small business. Each edition of "Small Business Spotlight" will feature an industry-specific discussion on a range of topics including business management tips, insider advice, and more.
Guest: Nicole A. Simpson, MBA, CFEI
Nicole is the Founder and President of Go Fund Your Life, which provides comprehensive personal finance education and tools to empower the average American income earner. Nicole holds a MBA and is a Certified Financial Education Instructor, Chartered Advisor in Philanthropy, and licensed insurance broker.
Moderator: Bruce Walters, MS, CBA
Bruce is a Certified Business Advisor for the Ohio Small Business Development Center at Columbus State Community College, where he manages the intake process for new clients, and provides marketing, operations, and general advising services for established businesses. Bruce's experience is predominately in insurance, human resources, entertainment, and non-profit administration. Bruce holds an Associate Degree in Art from City College of San Francisco, a Bachelor's Degree in Art History from the University of California Berkeley, and a Master's Degree in Marketing and Communications from Franklin University.
Our "Small Business Spotlight" series provides prospective small business owners with information on a variety of topics and industries, from Central Ohio business owners. Check our Calendar of Events for other topics in this series.
Fee: No Cost
Already Registered?
Sign in
for more information.