Certify Your Small Business
Topic: Government Contracting
Ever thought about selling your products or services to federal, state, and local governments?
---
Being a woman-owned, minority-owned, or service-disabled veteran-owned business helps you get a leg-up on your competitors! Where your business is headquartered can also serve as an advantage--but only if you're certified as such.
---
What you may not know is that your local SBDC helps with that! Between our own government contracting coach and the resources at the nearest Procurement Technical Assistance Center (PTAC), we can provide the following one-on-one confidential consulting services:
Determine suitability for government contracting
Understanding the language and basics of contracting
Secure necessary federal, state, and local government registrations
Assistance in applying for small business programs including agency certified programs (SDVOSB, 8(a), HUBZone) and self-certifying programs (SDB, EDWOSB, MBE), and more
Research procurement histories and forecasts
Connect with government buyers and prime contractors
Identify proposal and bid opportunities
Customized profile on automated bid match service
Review solicitations, proposal documents, and make recommendations
Assistance with contract performance requirements
Assistance with contract audits
Assistance with post-award contract administration requirements
We invite you to join Marci Wright, one of the Miami Valley's most experienced government contracting coaches, as she teaches you how to "Certify Your Small Business" and begin taking your first steps toward securing your first big contract.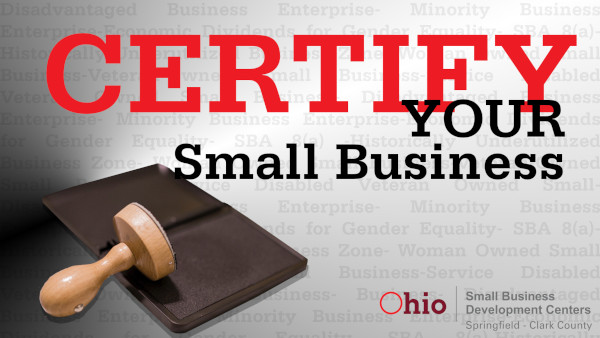 This hybrid event will take place on March 15, 2021 from 2:00 to 4:00 pm. Live, in-person attendance will be capped at 12 people to ensure social distancing takes place, however you can tune in on Facebook Live by following the Springfield SBDC page.
As always, attendance (including in-person) is free, but we do ask that you not sign up here unless you fully-intend to show up in-person. Otherwise, you're taking someone else's seat who wanted to be there but was locked out because you didn't show up.
Fee: No Cost
Already Registered?
Sign in
for more information.